NB! This product is sold with installation included, and must be installed by a Waterco trained technician.
Waterco Digiheat 24.0kW - 3 Phase Inline Pool & Spa Heater
The WaterCo Digiheat Inline electric heaters provide a versatile solution for heating your swimming pool. These heaters allow you to set the water temperatures and forget about it while the Digiheat takes care of the rest. The main features include:
Corrosion resistant heating element built to last

Self-diagnosis and digital temperature management

Housing built to withstand weather

Comes in 2.4, 3.6, 4.8, 6.0, 18 and 24 kW sizes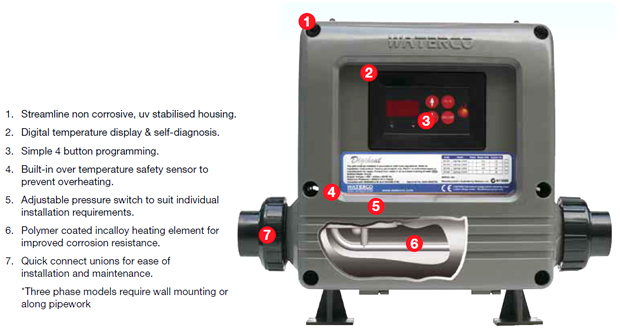 The WaterCo Digiheat heaters provide the most advanced technology and composite materials. They feature built-in safety devices to extend the life and provide even more dependability. They can be installed along pipe work, on the wall or even on the floor. Other features include:
Simple four button programming

Temperature safety sensor built in to prevent overheating

Adjustable pressure switch for specific installation requirements

UV stabilized housing

Incalloy heating element with polymer coating for better corrosion resistance

Easily install and maintain with quick connect unions

*The three phase units will require installation along the pipework or wall mounting.
​
​Heating Elements with Polymer Coating
All Digiheat Inline Heaters are available with the Polymer coating for the heating elements. This provides incredible corrosion resistance and helps to extend the life of the product. It will also help to improve the efficiency of the heating.
Self-diagnosis and Temperature Management
Choose the desired water temperature, set it and forget it. The current temperature will be shown on the LED display and the Digiheat will provide a continuous temperature display with a self-diagnosis system. If there is a problem, the control panel will display an error code.
Built-in Protection
The Digiheat pool heaters are protected by built-in safety devices. The Auto Flow Switch will shut the system down if no water is flowing. The built-in over temperature safety sensor also helps to prevent overheating.
Digiheat inline electric heaters are versatile, easy to use and built to last. Program your desired water temperature and let Digiheat do the rest.