Davey AquaReviva DAR20C Mineral Salt Chlorinator
THE NEW ECONOMICAL, SIMPLE THERAPEUTIC MINERAL WATER SANITISER WITH NATURAL FLOCKING AGENT THAT CREATES A HIGHLY CRYSTAL CLEAR POOL AND SPA
Ideal for in-ground and above ground residential pools, plunge pools and large swim spas up to 100,000 litres (depending on climate).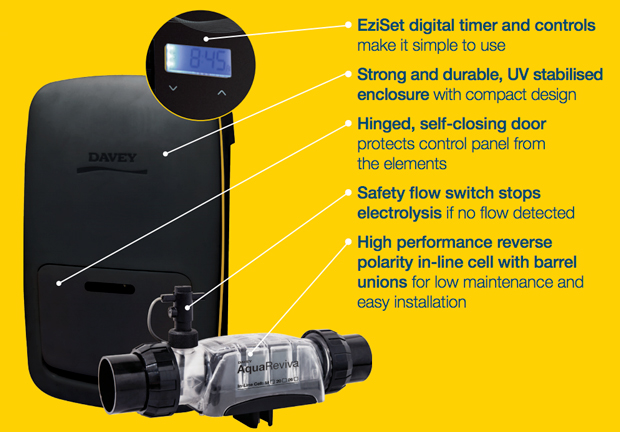 New high performance reverse polarity in-line cell with safety flow switch

EziSet digital timer for quick and simple set-up

User-friendly settings and controls

Safe automatic pool sanitising using natural minerals

Easy automation of your pool's filtration system

Compact enclosure and cell housing made with corrosion resistant, UV stabilised materials for long service life

Barrel union connections for easy installation

Proven technology and outstanding reliability

Operating Salt Level: 4,500 – 6,000ppm
​Warranty
Warranty Period - 3 Years on Power Supply & 3 Years on Cell
​



IMPORTANT NOTES:
1. In 'hard water' applications (above 275ppm), reverse polarity systems will require regular (monthly) inspection and manual cleaning.
2. If using mineral salts in areas with hard water, reverse polarity systems may require occasional manual cleaning. Mineral salts can form scale on the cell that isn't removed through the polarity reversal process, therefore more frequent manual cleaning may be required. In some cases this scale is soft enough to remove with a strong jet of water if acid cleaning proves ineffective.
3. The appropriate chlorinator size for your pool is dependent on the local climate and the bather load of the pool. Please note that chlorinator cell life can be increased with shorter running times during winter and lower output settings. Davey recommends that a chlorinator is run for between 6 - 8 hours a day during summer, and between 2 - 4 hours during winter