Revolution I Robotic Pool Cleaner - (Previously Davey Poolsweepa Floorcova)
Join the robot revolution with this entry-level floor and alcove pool cleaner.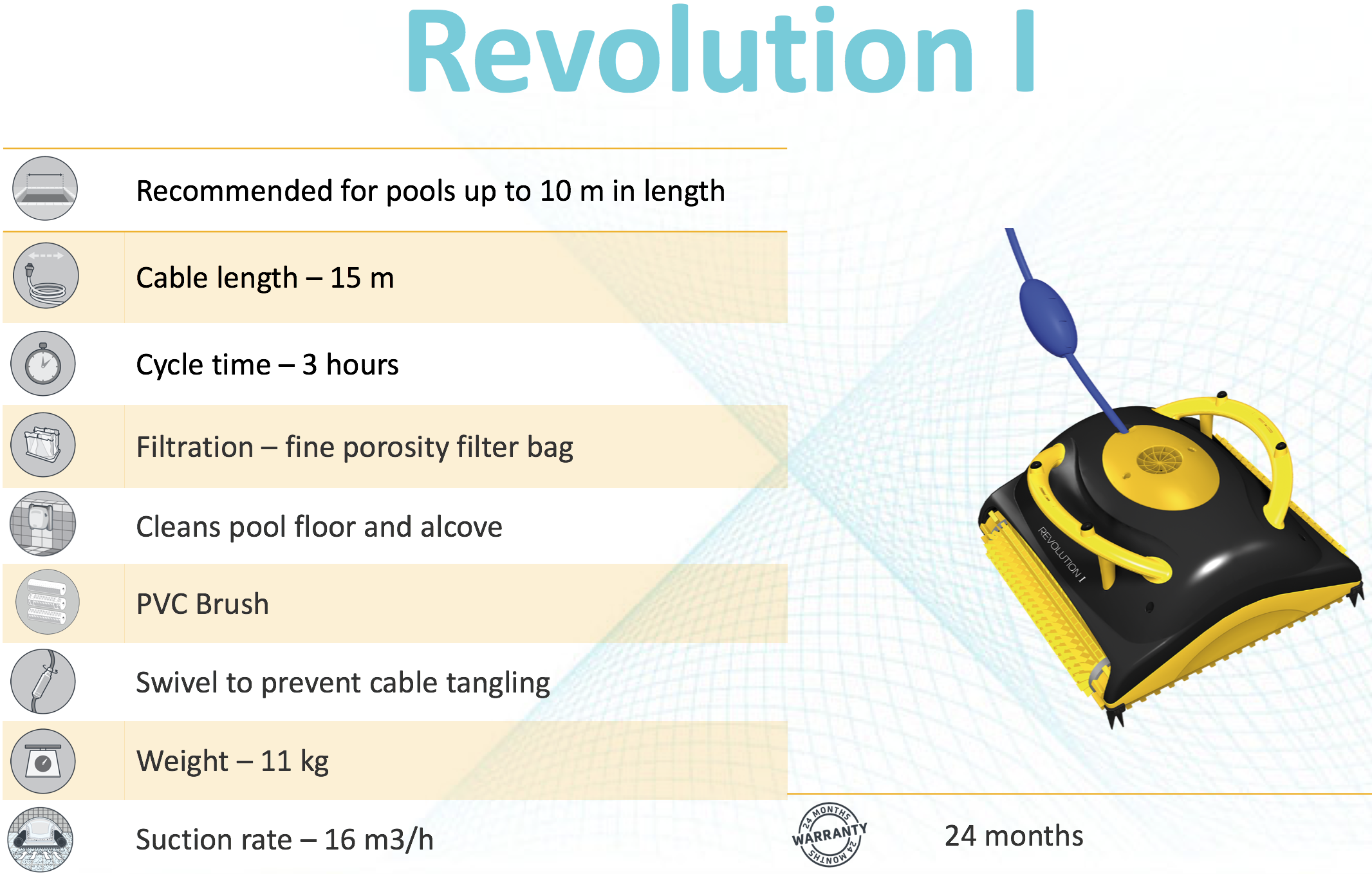 The Revolution I requires only a power connection to scrub, brush and vacuum your pool floor.
The lightweight design and single-speed motor convert 240v to 24v for the lowest of running costs.
The Revolution I is available at the Best Pool Supplies shop for the best discount price around.
Revolution I Features
- 2x durable PVC bushes
- Fine 50-micron filter cartridge
- Obstacle aversion capability
- Cable swivel prevents tangling
- Automatic shut-off
- 15-metre power cable (for large pools)
- 3-hour cycle time
- Suction rate - 16 m3/h
- Low & cost-effective
How it works
Armed with two PVC brushes, the Revolution I tackles algae and bacterial growth. Using tank-like tracks, it manoeuvres across the pool floor, sucking up dirt. This dirt moves inside the ultra-fine filtration cartridge (4x included) with the option to change cartridges for bulky debris.
The digital switch power supply ensures the Revolution I maintains long-term drive control. And with its motor protection mechanism, will never overload. An all-surface climbing brush enhances pool hygiene.
The Revolution I is suitable for pools up to 10-metres in length, including concrete, PVC, fibreglass and liner surfaces. Previously known as the Davey Poolsweepa Floorcova, the Revolution I builds reliability and performance on previous versions.
Warranty
North Sydney based Pool Ranger grants a 2-year warranty on the esteemed Revolution I.