NOTE: Due to weight restriction in some areas, this item may not be able to be delivered to a residential address and will need to be collected from the couriers depot.
---
FEATURES
5.49m(W) x 1.22m(H), (18'x48")

Water capacity (90%): 23,062 L, (6,092 gal)

Comes with 1500gal Cartridge Filter Pump

Easy set up

Corrosion resistant metal frames

Pool equipped with Seal & Lock System™ for a safe and secure pipe connection

Printed mosaic inner liner on the sides and bottom of the pool.

Heavy-duty PVC and polyester 3-ply side walls

Built-in flow control drain valve makes it easy to drain by attaching the valve to a garden hose (with included adapter) to drain away water

Underwater adhesive repair patch

The extra strong side walls of this pool are constructed with Tritech™, a 3 layer reinforced material with a polyester mesh core encased between two layers of high gauge PVC material. This creates a total thickness of 0.40-0.80mm (16-32 gauge) depending on the size of the pool, offering superior strength and durability.
---
FREE Zodiac Chemical Pack - 7 Effective Products to Prepare Your Pool for Summer - VALUED AT $90!
What's in the Box?
Filter Cleaner 500g -

Cleaning the filter improves filtration efficiency. Suitable for all filters.

Phosphate Remover 1L

- Highly concentrated formula removes a main source of algae nutrient to starve and prevent algae growth.

Long Life Algaecide 1L

- Copper based formulation that attacks algae cells before toxic algal blooms take hold of your pool.

Oxyfresh 500g

- Non-Chlorine Shock. Eliminates organic contaminants and chlorine odours. Safe to swim 15 minutes after application.

Pool Sparkle Sanitiser Chlorine 300g

- Chlorine sanitiser with built in clarifier, water conditioner and sunblock.

Sparkle Clarifier Tablet 125g

- Restores the shimmer and shine to the water. Easy to use. Fast acting.

Test Strips (50 strips)

- Test the water regularly to make it safe to swim. Perfect to use between visits to the pool store.
---
BESTWAY PRESENTS: GIVE YOUR FAMILY THE BEST SUMMER EVER!
---
WHAT'S IN THE BOX?
THE POOL
TriTech™, a 3-ply reinforced material with a polyester mesh-core encased in two layers of laminated PVC, that offers superior strength and durability. This premium grade, above ground pool material, can withstand extreme conditions including exposure to ultraviolet rays and chlorine, plus it's stress-tested against the weight and strain of large volume of water.
THE FILTER PUMP
Bestway 800gal Filter Pump helps to maintain a steady flow of clean, clear and hygienic water in your swimming pool. Durable, corrosion-proof filter tank ensures longevity. All accessories included.
THE POOL LADDER
This Bestway pool ladder features heavy-duty plastic steps and rust-resistant coated metal frame. Being lightweight means keeping your pool child safe has never been easier.
Easy construction is another bonus.
THE POOL COVER
No more leaves in your pool with this convenient cover! Made from durable material and also includes ropes to secure the cover to the pool. Clever design includes drain holes to prevent water from accumulating.
THE GROUND CLOTH
It provides extra protection for the bottom of the pool. Made from all-new durable material.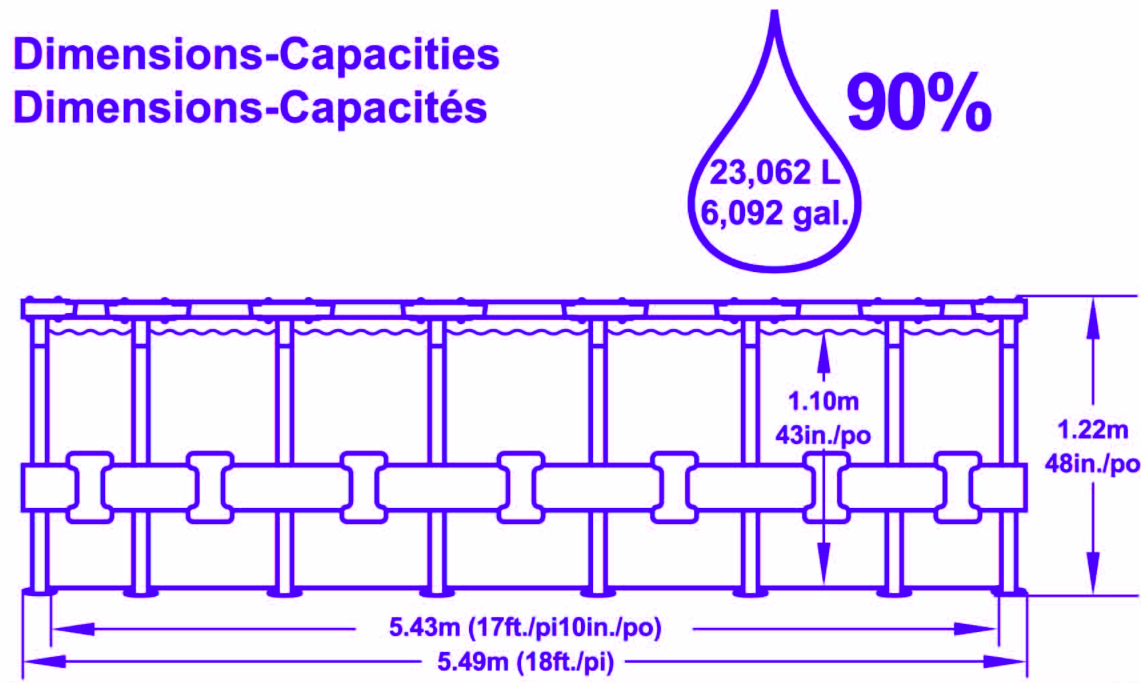 5.49m(W) x 1.22m(H), (18'x48")

Water capacity (90%): 23,062 L, (6,092 gal)
---
Pump Installation Diagram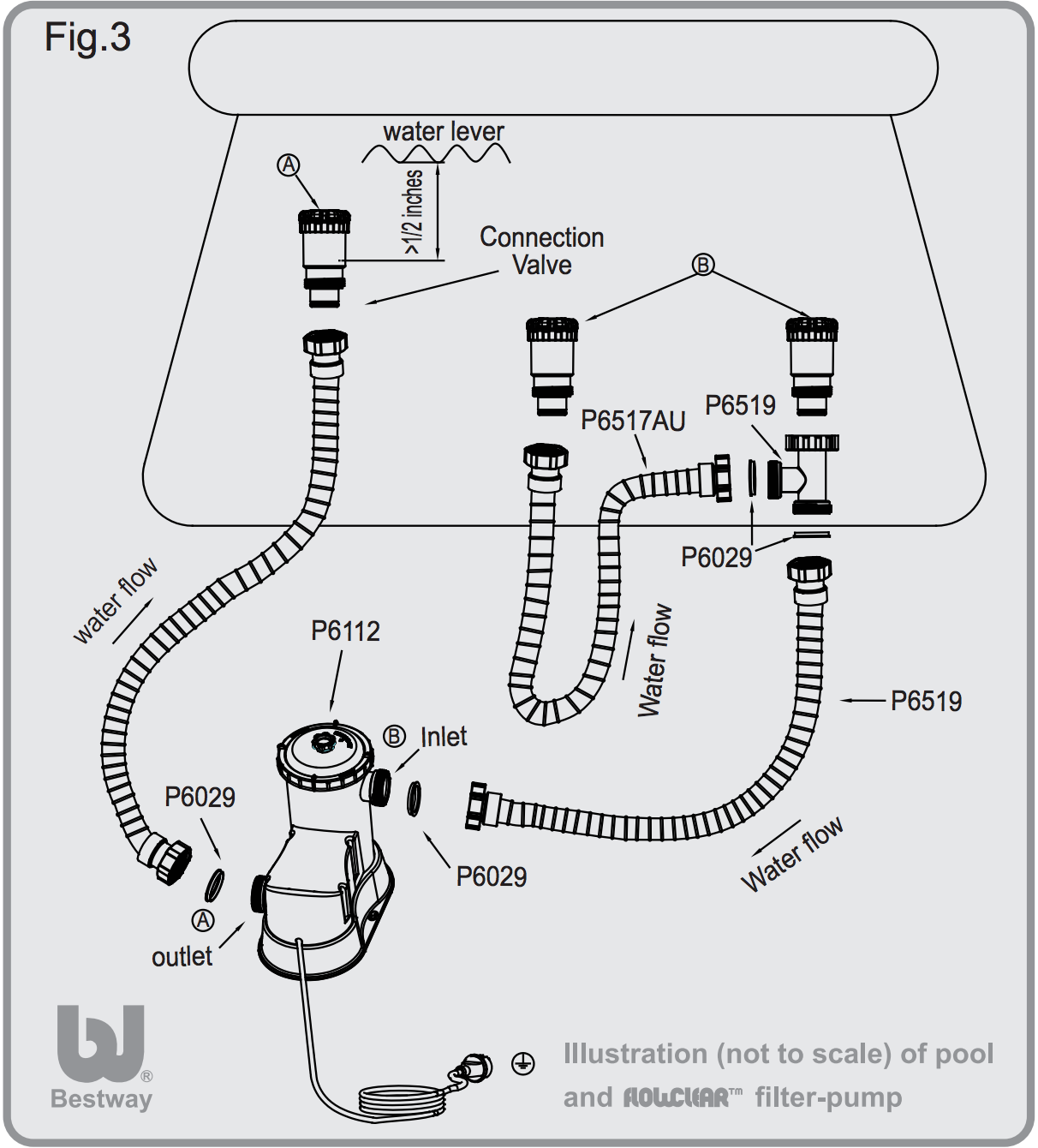 ---
Flowclear Filter Pump
---
Package Dimensions
Master carton size: 68.5 x 50 x 116 cm
Master carton weight: 82.58 kg