Zodiac OT15 Robo​tic Pool Cleaner
Efficiency, pure and simple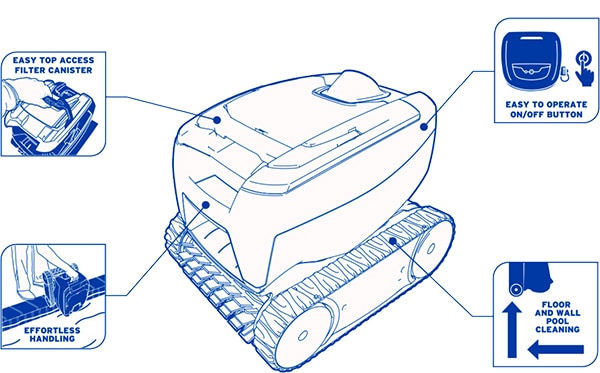 Engineered for optimum pool coverage and performance, the Zodiac OT15 cleans floors and climbs walls effectively making it a simple and effortless pool cleaning experience.
Key product features and benefits:
Efficient cleaning for the floor and walls
The OT15 covers both the pool floor and walls hassle free during its 2.5 hour cleaning cycle. Front scrubbing brushes quickly removes debris for a deep clean.
Convenience
Easy-to-clean filter canister means no contact with debris, making it simpler to clean the pool. Trouble-free top access filter canister has a large handle for easy removal.
Effortless Handling
Easy to remove cleaner from the water with large handle. The OT15 is light weight with the body only weighing 7kg.
Certified to Australian safety standards
Specifications:
Robotic Pool Cleaner

Easy to install and operate - Plug & Play

1 Cleaning Cycle: 2.5 hours for Floor and Walls

Suitable for most in-ground pools up to 8m x 4m

Suitable for most pool surfaces including concrete, fibreglass, pebblecrete, quartzon and vinyl

Debris type: Suitable for small, medium and large debris

For extra fine debris, use 100 micron filter canister available separately

A model for tiled pool surface is available

14m cable

2 year warranty
​
Packaging content:
1 Robotic Pool Cleaner with 14m floating cable

1 Control eBOX

1 Warranty Card

1 Quick Start Guide

1 Owner Manual

1 100 Micron Filter Canister for fine dust and debris
​
Warranty
Warranty Period - 2 Years
​