Zodiac Pacer Pool Cleaner with Cyclonic Leaf Catcher - 2 Year Warranty.
The Zodiac Pacer is a tried and tested model with a sturdy design and reliable performance. Designed to suit a variety of pool surfaces and shapes, the Zodiac Pacer will keep your pool clean for you to enjoy it.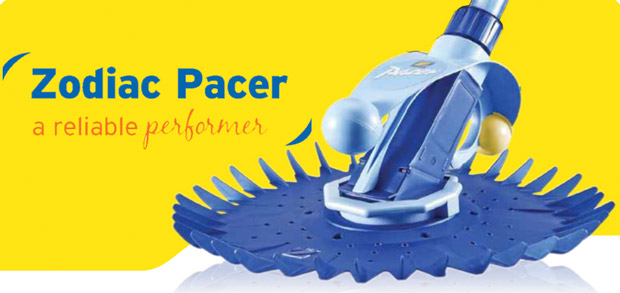 Zodiac Baracuda Pacer is sturdy and reliable pool cleaner. Using the same technology as all time favorite Zodiac's Baracuda G2, this is a bargain for it's price!

Utilising Baracuda whisper quiet diaphragm technology, the Zodiac Pacer suction pool cleaner has no noisy flappers or hammers and features a soft flexi foot for easy surface gliding.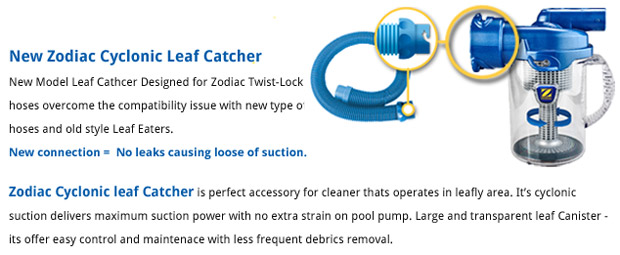 Zodiac Pacer Suction Pool Cleaner Features:
Disc suction pool cleaner

Suitable for all in-ground and above ground pools

Suitable for concrete, pebblecrete, quartzon, tile, fibreglass, vinyl surfaces.

Only one moving part 'the diaphragm' means simple operation and low cost maintenance.

Easy-to-replace diaphragm.

Easily navigates around steps, ladders and corners.

Packaging Content:
1 x Zodiac Pacer cleaning head

1 x Cyclonic Leaf Catcher

10 x 1m lengths of genuine twist lock hose

1 x hose weight

1 x leader hose adaptor

1 x deflector wheel

1 x AD flow valve

1 x pool pulse®

1 x hose protection mesh

1 x warranty card

1 x quick start guide

1 x 90o elbow