Avenger Automatic Pool Cleaner
Avenger Pool Cleaner is the ultimate in automated pool cleaning. Simple to install, it features patented AutoPilot® buoyancy and steering control system that provides unrivalled manoeuvrability and superior performance. Designed to work in your pool effortlessly, the Avenger cleans, climbs and vacuums your pool like no other. This makes the Avenger the intelligent choice.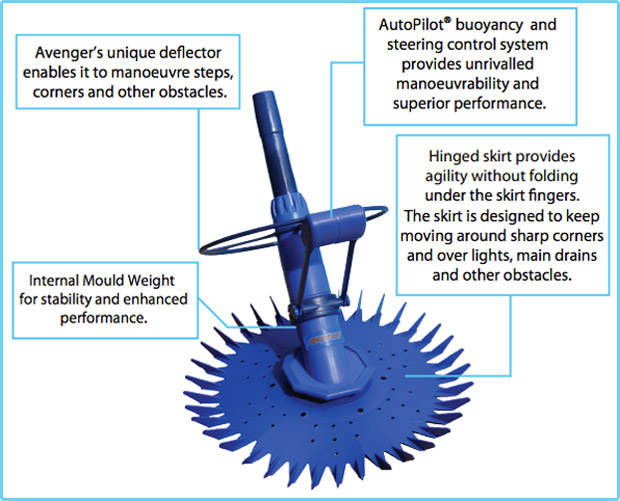 Features:
Simple self installation, installs in minutes.

Quickly and efficiently cleans up leaves and

debris from your pool.

Comes complete with hose & accessories.

Suitable for all pool surfaces.

All components are UV stabilized for long life.
Reliable
Constructed from long lasting, UV stabilized materials.
Versatile
The Avenger Pool Cleaner suits all pool types. Above-ground and in-ground, concrete, pebblecrete, quartzon, fibreglass and tiled surface pools.
Simple Installation
You can install the Avenger in minutes. No tools or special plumbing is required.
2 Years Limited Warranty.
Built to last the Avenger is backed by a two year warranty against manufacturing defects on all parts.
Contents of The Box:
1 x Pool Cleaner

12 x 1m Hose Lengths

1 x Hose Weight

1 x Speed Control Elbow Valve

1 x Deflector Assembly

1 x Hose Adaptor

1 x Flow Indicator

1 x Manual & Warranty Card