The Zodiac Jandy CV480 cartridge filter series has a bigger capacity and higher flow rates than the CS series cartridge filters. This makes the Jandy CV cartridge filter more suitable for larger domestic pools that are above 60,000 litres.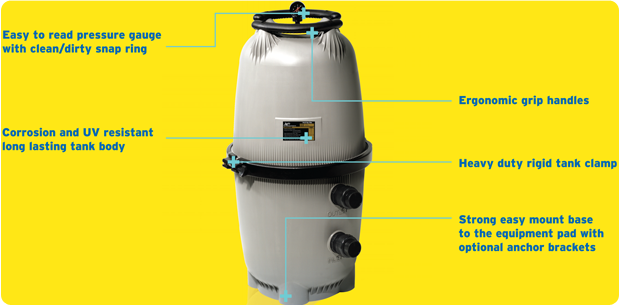 The Zodiac Jandy CV340 cluster filter is the ideal choice if you have multiple space restricted areas. It is more efficient than a sand filter and is designed to handle high flow rates with maximum hydraulic performance.
Features of the Zodiac Jandy CV cartridge filter include:
Durable parts made of Remay materials that is recognised globally for its long life and superior filtration;
The unique fibre design catches even the smallest particles of debris;
A Jandy CV cartridge filter will filter between 10 to 20 microns while a sand filter between 25-40 microns. This means a cleaner pool for you;
No backwashing required this saves you on average 750 litres of water when compared to a sand filter – or thousands of litres a year;
Easy to maintain just remove the cartridge elements, engineered for easy removal, and hose them down;
The Zodiac's CV series cluster filter uses the surface area of the filter to extend cleaning cycles and reduce maintenance;
Ergonomically designed, the Zodiac CV cartridge filter has easy grip handles to make installation and cleaning simple;
Extra-large 50mm drain ports and pressure gauge with clean/dirty indicator also make servicing and filter cleaning easy;
Optional anchor brackets (sold separately) attach to the filter tank and enable it to be mounted to the equipment pad to hold the filter securely in place;
Made from durable, corrosion resistant, heavy duty polymeric materials for long lasting performance;
Outfitted with a strong base that can effortlessly be mounted to the equipment pad and a heavy duty rigid tank clamp to ensure the body is securely in place.
When you are looking for a cartridge filter for your domestic swimming pool consider buying a Zodiac Jandy CV340 cartridge filter. It is ideal for larger pools and has a great range of features that make it easy to use and maintain.
Buy a long-lasting Jandy CV cartridge filter from us at Best Pool Supplies, the largest pool supplier in Australia, and we will give you the best price available.
​​Warranty
5 Years on tank
1 Year on pressure gauge & filter element