Energy Efficient Pumps can save you hundreds of dollars on your energy bill.

Conventional pool pumps are limited to one set speed. A pool pump is usually sized to cater for the pool's maximum water flow requirements, which may either be the sand filter's backwash water flow or to provide sufficient water flow to operate a suction cleaner.

As the speed of a conventional pump cannot be changed, the same maximum water flow is applied across the pool's various requirements.

Eco Pool Pump 3 speed / variable speed options cater for most pool functions:
High speed - Vacuuming and backwash – 1% of the time

Medium speed - Automatic pool cleaners

Low speed - Filtration – 99% of the time

As a pool's filtration cycle occupies 99% of the run time of a pool pump, you can operate the Eco Pump on its low speed setting for a majority of its running time, leading to significant energy savings.

By operating it at low speed Eco Pool Pumps can slash its energy use by up to 70%!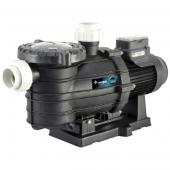 AVAILABLE IN-STORE ONLY
CALL 1800 100 417 TO ORDER