| | |
| --- | --- |
| | |
NB! The cover will be delivered approximately 300mm longer and 150mm wider to allow for shrinkage.
Daisy Pool Covers - Ultradome Solar Blanket
Step 1 - Pool Measurements
Australia's biggest selling premium pool covers:

Brand - Daisy pool covers are the only type sold by the very best pool shops.
Performance - This pool cover can easily outperform other brands.
Durability - The Daisy pool cover bubble shape outlasts other brands.
Value - Our pool cover prices save you hundreds of dollars on this quality brand.
How much warmer ?
Summer*
Spring*
Pool Covers in Melbourne
4-6 °C
3-4 °C
Pool Covers in Sydney
6-8 °C
4-6 °C
Pool Covers in Brisbane
6-8+ °C
4-6 °C
Pool Covers in Perth
6-8+ °C
3-6 °C

Daisy Solar Pool Cover benefits:

Swim More - Pool Covers heat your pool up to 8oC
Cleaner - A pool cover keeps out leaves and dirt
Save $ - Pool Covers cut chemical use by up to 50%
Save Water - A Pool Cover cuts evaporation by 97%

Boost performance of solar heating systems!
The translucent pool cover allows maximum sunlight (and heat) into your pool.
Short wavelength energy passes easily, generating heat like a magnifying glass.
The the pool cover virtually eliminates evaporation, a major source of heat loss.
The Ultradome pool cover profile provides further thermal insulation -
To find out the cost for a Daisy cover for your pool the first thing to do is measure the length and width of your pool. These two numbers multiplied will provide a square metre figure from which to calculate the cost of your choice of Daisy cover. Use an appropreate tape measure.
1. Measuring your pool is simply a matter of measuring the maximum water level width and length of the main body of water. See illustration below.
This will give you Width: A and Length: B
for the main body of your pool.
2. If you have any steps, then measure the step area separately as set out below.
3 .If you have a shaped pool, treat as rectangular as per the examples below: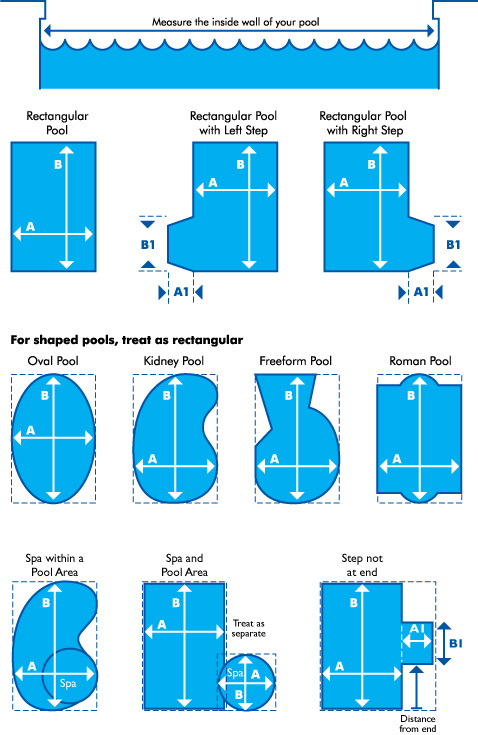 Watch this Video for step by step instructions on how to install your Daisy Pool Cover and Roller.
Daisy's quality products are custom prepared to you selected dimensions.

Your order is normally prepared and dispatched within two business days.

Not home when the delivery arrives? - Your order will be left in a safe spot.

How long does it take for delivery?

Metro Areas:
Allow approx. 4-5 business days - Applies to
Sdy, Bris, Melb, Perth & Adelaide

Regional & Other Areas:
Allow approx. 5-10 business days. Fastest
comparable in Australia.