Davey Celsior C270A Spa Bath Pump
A standard feature of all Davey Celsior products is our patented 'heat maintenance technology' that through the unique water jacket motor design, captures wasted motor heat and transfers it back into the water, keeping your bath water warmer for longer.
The Davey Celsior C270A Spa Bath Pump includes standard heat maintenance as well as heat boost models, containing a heater element. Heat boost models are ideal for colder areas, where your spa bath water, may get cold very quickly. The touchpad models are a nice upgrade to control instead of the standard air button.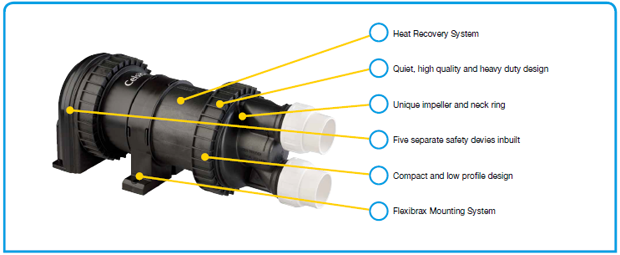 The Davey Celsior 270A features an advanced, high efficiency water cooled electric motor combined with a high performance self draining wet end and comes with a selection of control and in-built heater options.
The Celsior range is specifically designed to circulate water through spa bath jets to provide a massaging effect. The water cooled heat recovery motor reduces operating noise and maintains the temp perature of the spa water for longer.
Up to 50% quieter than other pumps which provides a more enjoyable spa experience that will not disturb your well deserved relaxation or your neighbours.
With pumps as large as 2 horsepower, and three unique patented features, Celsior pumps deliver greater water flow and pressure, enlivening your spa for a complete massaging effect.
Davey Heat Recovery technology maintains the temperature of your spa for longer by utilising waste energy which is otherwise lost when using traditional style spa pumps.
Environmentally friendly & highly efficient with up to 97% effective energy usage
High efficiency impeller lowers running costs, delivering savings of up to 15% over older style spa bath pumps. Unique impeller neck ring increases water pressure and flow.
Quick and easy to install using the Davey 'Flexibrax' which makes wall mounting possible with no extra parts and maximises the flexibility and space within your bathroom.
IP56 protective enclosures make Celsior ideal for outdoor installation without the need for expensive covers.
Designed to exceed standards for electrical safety, with up to 5 safety devices that monitor environmental and pump conditions.
Designed to self drain free of water after each use. This prevents build up of stale unhygienic water for your peace of mind.
'No water' protection prevents heater operation if the pump is run in the absence of water.
All Celsior models feature automatic shutdown protection if the pump is run without water or the suction is blocked.
Quiet, high quality, heavy duty, Davey manufactured pump and motor ensures that the Celsior range is of the highest quality.
Built-in automatic air bleed, enables air to be released from the pump, to assist priming performance in difficult installations