Davey EcoMineral 3600 - 26 g/h Mineral Salt Chlorinator
A new EcoMineral santiser, the Davey EcoMineral Chlorinator provides added therapeutic benefits. It will keep your pool water crystal clear year-round with a simple and reliable system.
The Davey EcoMineral Mineral Salt Chlorinator is easy to operate and install. It's great for therapeutic pool sanitisation and provides a number of cleaning benefits.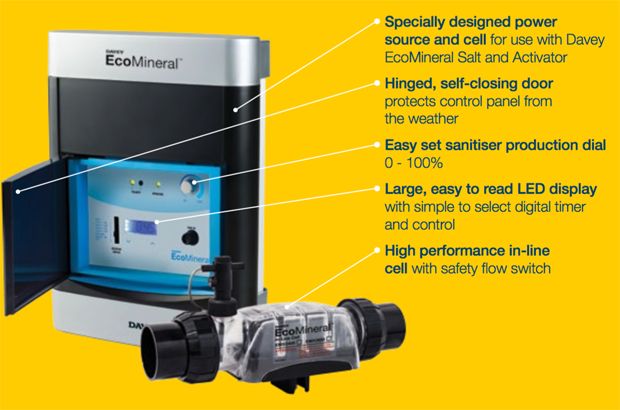 Applications
This Davey Salt Chlorinator is ideal for above ground and in-ground pools. It can be used for residential swimming pools, larger spas and even plunge pools up to 130,000 litres.
Benefits
With the Davey EcoMineral Chlorinator, you'll gain many benefits including the natural and soft feeling water you desire. This will help to keep your skin moisturised, while drawing out impurities. You'll gain the therapeutic benefits of natural relief for muscle pain and relaxation for the nervous system. The softer water will even aid in reducing stress.
Features
When you choose the Davey Mineral Salt Chlorinator, you will gain features, such as the digital dual timers, large backlit digital display, LED indicators and in-line reverse polarity cell with high performance. It also comes made with only corrosion resistant, UV stabilized materials for increased durability. The in-built flow switch will also help to stop electrolysis if there isn't any flow present. This keeps dangerous gasses from building up.
Davey EcoMineral Chlorinator models fit pool sizes from 10,000 to 130,000 litres. The recommended total dissolved solids or TDS levels range from 4,000 to 6,000ppm. It's also very easy to install and operate.