Zodiac Jandy CS100 Cartridge Filters are compact and proven to be long-lasting. With a single element design to provide the best filtration, Zodiac Jandy CS Filters will make sure that your pool water is clean and clear every day.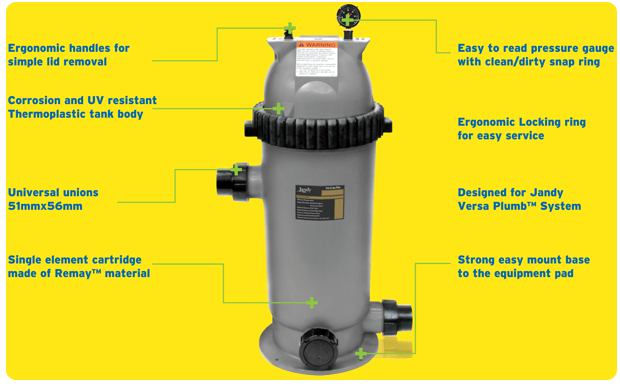 The cartridge filter element is constructed from Remay materials that are recognised globally for exceptional filtration and durability and will filter even the smallest debris from the water.
Zodiac Jandy CS100 Cartridge Filter features include:
Unique filter element with fibres that will filter finer dirt particles than any sand filter;
Backwashing is not needed so you save on water usage, just remove the elements from the filter and hose them down;
The ergonomic, compact design has an easily removable lid that has grip handles, extra-large 50 mm drain ports, a pressure gauge with clean/dirty indicator and ergonomic locking rings;
Easy to remove cartridge elements when you need to clean or perform maintenance;
Zodiac CS Series cartridge filters are made from high impact, corrosion and UV resistant thermoplastic that can endure even the most difficult conditions. The strong base lets you mount it onto an equipment pad;
The compact design means that the CS filter is a small 375mm wide;
Universal unions 51mmx56mm;
Designed for the Jandy Versa Plumb™ System.
Buy Zodiac Jandy CS Cartridge filters from us at Best Pool Supplies for the best price in Australia. Long lasting and tough, Zodiac Jandy CS Filters are an investment in quality that will ensure that the water in your pool is sparkling clean for years to come.
​​Warranty
5 Years on tank
1 Year on pressure gauge & filter element
Zodiac's CS Series filter utilises single element cartridges designed to provide optimum filtration. Compact in design and extremely versatile Zodiac's CS cartridge filters are the perfect pool filtration solution providing you with clean, clear water everyday!