ZipPay Now Available At Check Out.
Home
Bestway Accessories
FEATURES
Pump with a RCD plug

Pump's water flow rate (pump capacity ): 2,006 L/h (530 gal./h)

Integrated pool system water flow rate (system flow rate): 2,006 L/h (530 gal./h)

Durable, corrosion-resistant filter tank.

6-position valve allows for easy filter control.

Top flange clamp allows 360° rotation for quick and smooth installation.

Easy-to-read pressure gauge.

Included ChemConnect™ Dispenser maintains and provides clean, healthy pool water. Dispenser release provides a stable level of chlorine needed for proper chemical balance.

Includes a strainer for separating leaves and other rough debris.

This product is preassembled for added convenience.

Recommended hose size for this product is a diameter 3.2cm / 1.25'' with proper thread size.

Sand not included.

Required sand size: #20 silica sand, 0.45-0.85mm, approximately 8.5kg

For use with 1,100-16,000L (300-4,200 gallon) pools
---
BESTWAY FLOWCLEAR 530 GAL SAND FILTER PUMP: Helps to maintain a steady flow of clean, clear and hygienic water in your swimming pool.
-Sand filters are the ultimate in above ground pool filtration as they require less maintenance than a cartridge based filter system.-


Pump Installation Diagram & Dimensions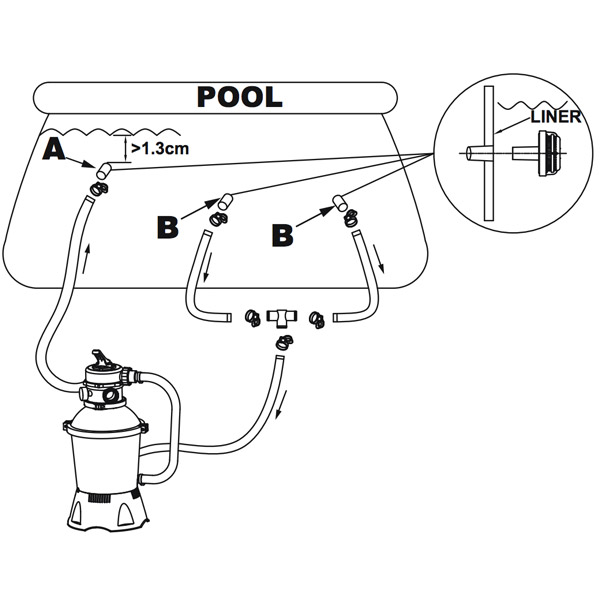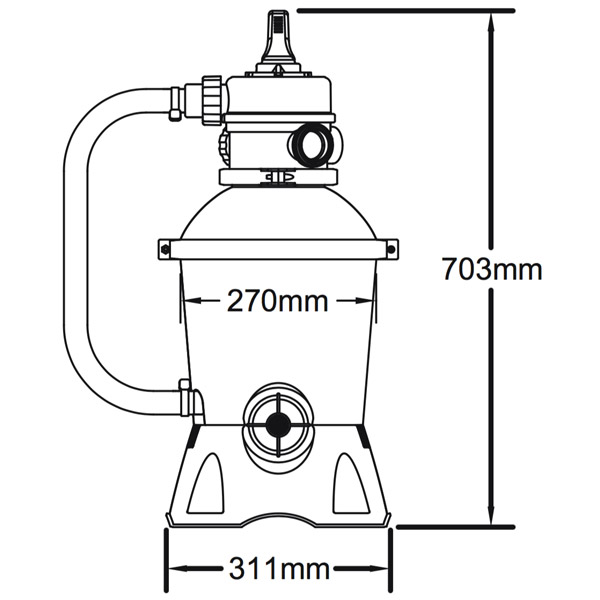 ---
Flowclear Filter Pump
---