Compu Pool CPCS24 Salt Water Chlorinator
The Compu Pool CPCS24 Salt Water Chlorinator (Discontinued) is a saltwater chlorinator that lets you enjoy a stunningly clear pool without the presence of harsh chemicals. Saltwater chlorination is a clean, safe and easy way of looking after your pool without using chemicals that can irritate.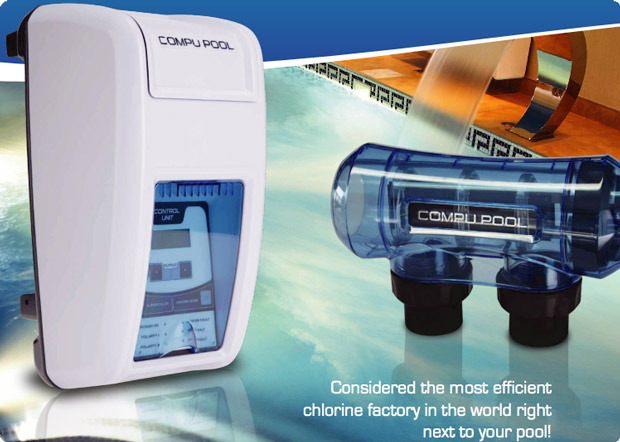 How it works
The Compu Pool CPCS24 Salt Water Chlorinator is a high performance chlorination system that adds salt to the water, 0.35% - 0.4% salt content. The water is then moved through the electrolytic cell to produce chlorine gas that stops algae and purifies the pool or spa.
The Benefits of Saltwater Chlorination
No eye or ear irritation;
A reduction in the unpleasant odour and taste;
The elimination of the need to store and use hazardous chlorine;
No need to buy expensive chlorine;
Automated chlorination;
Is suitable for all types of pool surfaces.
Features of the Compo Pool Chlorinator include:
3500 P.P.M. salt;
An easy to read LCD digital display;
Handy LED indicator lights;
High and low salt fault lights to indicate levels;
No flow sensor and fault light to track problems;
A self-regulating function automatically starts if salt content is too high;
Weather resistant;
A special winter mode for designed for cold water operation;
SuperChlor mode for increasing chlorine levels during busy periods;
Easy to use touch pad controls;
Fully automated- program for when you are not at home;
Simple to install;
Reliable and durable;
Digital time clock with battery backup timer;
Cell has push on water proof connectors for simple exchange of cell;
Advanced high grade U.V. stabilised plastic control unit;
Large alloy heatsink for heat disipation and corrosion resistance.
The Compu Pool CPCS Chlorinator looks after the health of your pool without the harsh chemicals. A high performer, the CPCS Chlorinator is tough and reliable and will give you many long years of service in your pool.
When you buy a Compo Pool Chlorinator from us at Best Pool Supplies we will ensure that you get the best price available.