Davey ProMatic Salt Chlorinator
The Davey ProMatic Chlorinator is a state-of-the-art, all in one salt chlorinator. The Davey Promatic sanitises using saltwater which is gentler on you and means that you don't have the irritation caused by chemical chlorination.
Perfect for domestic in and above ground pools, the ProMatic Chlorinator is also ideal for large swim spas. Easy to install, the Davey ProMatic Chlorinator is simple to use and integrate with the rest of your pool system.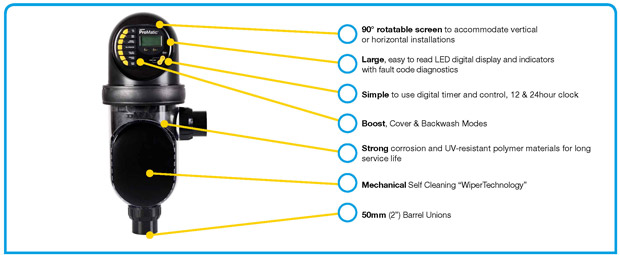 Other features of the discontinued Davey ProMatic Salt Chlorinator include:
Self-cleaning using the "Mechanical Wiper Technology";
The power source and cell are contained in a single unit;
Dual timers that are digital for easy use;
Backlit digital display and LED indicators that are straightforward to read;
Ideal for pumps that are low flow, energy efficient;
Constructed from corrosion and UV resistant materials;
Strong and long-lasting;
Reliable;
Has the capacity to adjust chlorine output to match the temperature of the water;
Salt level indicator to adjust for optimal levels;
Optional boost mode when you have a large number of swimmers;
A flow detector to protect against gas build up. Electrolysis is stopped is there is no flow detected;
Built in cut out for the pump if no flow for 20 minutes;
Can be installed either horizontally or vertically;
Backwash mode available.
The Davey ProMatic Chlorinator will keep your pool sparkling clean every day of the year. Low on maintenance and built to last, the ProMatic Chlorinator adds the exhilaration of saltwater chlorination to your pool.
Buy a Davey Promatic from us at Best Pool Supplies for the best price in Australia.