Davey Celsior C270TB Touchpad Boost Spa Bath Pump
The Davey Celsior Spa Pump comes with a standard features called heat maintenance technology. This is a patented feature designed only for the Davey Celcior Pump. It allows a water jacket motor to capture motor heat and transfer it back into the water. You will have warmer spa water for longer with this feature.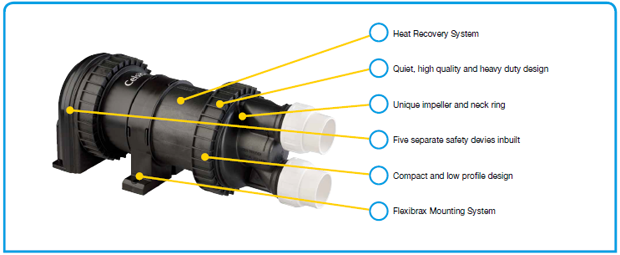 The Davey Celsior Pumps also provide standard heat maintenance and some models come with heat boot features. The heat boost models work great in cooler climates where your spa water may get very cold rather quickly. You can also upgrade to the touchpad model, which allows for easier controls instead of the air button.
The Davey Celsior range provides an advanced water cooled electric motor and a high performance self-draining wet end for even more efficiency. It's an advanced model with built-in heater options and a selection of controls.
Applications
The Davey Celcior Pump is designed to circulate the water through your spa jets and provides a massaging effect. The uniquely designed motor provides water cooled heat to be recovered, which keeps the noise down and makes it easier to maintain the temperature you prefer for your spa bath.
This specific type of pump is 50% quieter compared to other pumps, making for a more enjoyable spa experience for everybody.
Up to 2 Horsepower
The Davey Celsior Spa Pump comes in designs up to two horsepower. Every pump comes with the unique features for better water flow, better pressure and a full massaging effect within your spa.
With the Davey Heat Recover Technology, you're spa will maintain the right temperature longer. This technology helps to utilize waste energy, which would usually be lost by a traditional pump.
Environmentally Friendly Spa Pump
The Davey Celsior Pumps are environmentally-friendly and provide up to 97% effective use of energy. The higher efficiency makes this pump run at a lower cost. Users may save up to 15% compared to the traditional pump style and gain more water pressure and flow at the same time.
Easy to Install
Installing the Davey Celsior Spa Pump is very easy with the Flexibrax design. This makes wall mounting possible and you won't need any additional features. You'll be able to maximize the space within your bathroom, as well.
Other Features Include:
Designed for superior safety with up to five monitoring devices for the pump condition and environment.

No water protection keeps heater from operating if run without water.

IP56 protective enclosures make it possible to use the Celsior Pump outdoor without an expensive cover.

Self-drain design helps keep the unit hygienic by preventing build up.

Automatic shutdown protection if suction is blocked or pump is run without water.

Built-in automatic air bleed to ensure air is released from the pump. Makes installation even easier.

High-quality, quiet, heavy duty pump and motor.