Revolution II Robotic Pool Cleaner w. Wonderbrush (Previously Davey PoolSweepa Wallclima)
Revolution II scrubs, brushes and vacuums your pool walls and waterline in just 2.5 hours.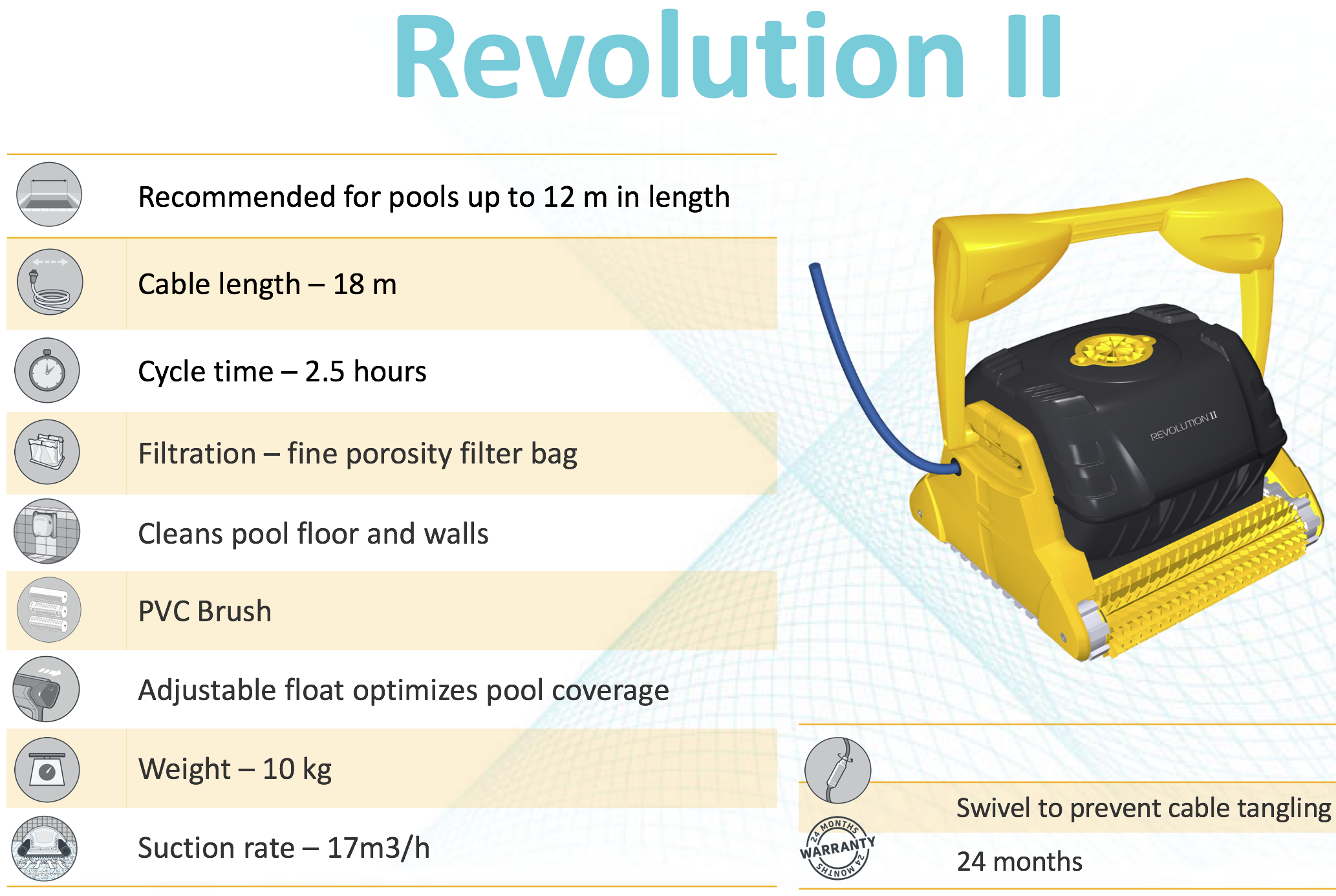 Building on the Revolution I, the series two carries a longer power cable, scales walls and waterlines with a larger capacity filter bag.
Start a robotic revolution to save time, use less chemicals, waste less water and save up to $960 a year in energy bills.
Best Pool Supplies are starting a low price-revolution with Revolution II.
Revolution II Features
- 18m cable length (12m x 3m pools)
- Cleans floors, walls & waterline
- Brush options to suit multiple surfaces
- High volume, low micron (50) filter bag
- Advanced scanning programme
- Powerful suction rate 17m2/h
How it works
Leave your poor pool filtration system alone. The Revolution II is a self-contained, all-in-one cleaning package, requiring only a mains connection. A single-speed motor powers the cleaning mechanism and sucks up debris through an internal filter. The ultra-fine (50-micron) filter bag collects dirt, debris and dust particles while releasing clean water back into the pool.
The genius of Revolution II lies in its intelligent navigation system which scans your pool for contours and obstacles. A swivel cable ensures the cable stays free and clear as the robot moves around the pool, achieving maximum cleaning coverage.
With its plug-and-play design, set-up is a breeze. Many processes are automated, including the cleaning cycle, safety mechanisms and automatic shut-off settings. The sizeable retractable handle makes it easy to grab the 10KG cleaner out of the pool. Internal filtration systems make it simple to remove and clean.
Warranty
Established in 1992, Pool Ranger guarantees a 24-month return warranty for the Revolution II (formally Davey PoolSweepa Wallclima).