Revolution III Robotic Pool Cleaner w. Remote & Wonderbrush (Previously Davey PoolSweepa Optima)
Top-of-the-range Revolution III takes robotic pool cleaning to the next level.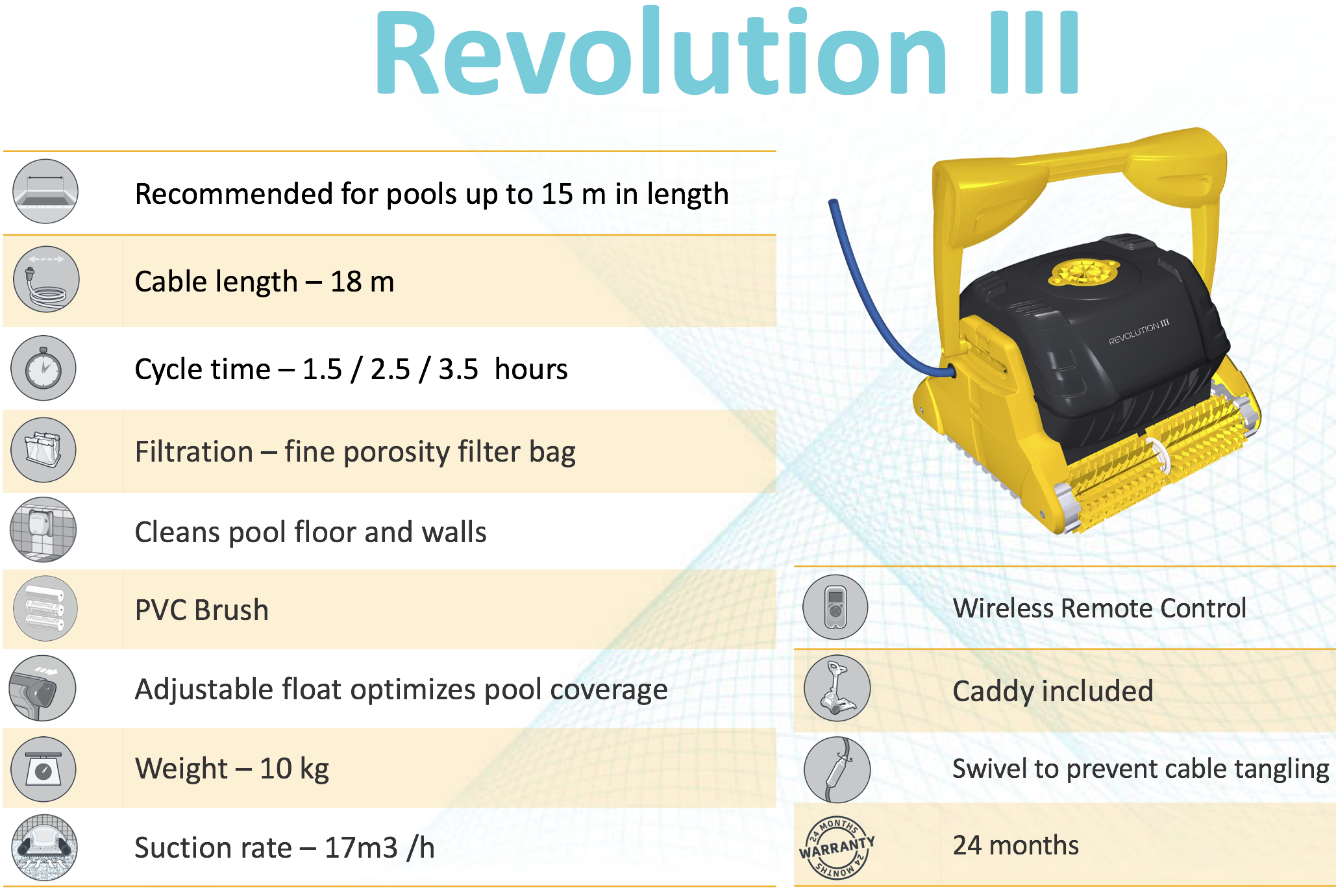 The programmable powerhouse adds dual drive motors, remote control and a plethora of customisation to the Revolution series.
Building on the Revolution II, series three includes a storage caddy for secure storage and handling.
Best Pool Supplies offers the top-shelf Revolution II at bottom-shelf prices.
Features
- Dual drive motors for turning efficiency
- Remote control spot cleaning
- Programmable powerhouse
- Waterline scrubbing feature
- Power Supply with full bag indicator
- Caddy for secure storage and handling
- Large capacity ultra-fine filter (50 microns)
- Advanced scanning programme
- Swivel to prevent cable tangling
- Suction rate 17m3/h
- Cable length 18 metres
How it works
The secret to outstanding results lies in the cleaning trifecta; brushing, scrubbing and filtering. These three elements are refined to tackle dirt and debris for a hygienic pool experience. The advanced operation can tackle commercial capacity and larger domestic pools (up to 15 metres). Larger or frequent operators could see energy savings of up to $960 a year with this model.
Revolution III is brimming with leading technological features, starting with the intelligent navigation system that uses scanning software to map your pool for complete coverage. Or the dual-drive motors designed to grip surfaces like a Formula One race car. Finally, the ultra-fine filter (50 microns) catches and stores more debris than ever.
Take control with Revolution III. The advanced power supply produces faster cleaning and a full filter gauge. However, it's the remote that really puts the user in control. Choose between multiple cleaning routines, a weekly timer, runtimes, delayed start, surfaces selection and even spot cleaning.
Warranty
Sydney based Pool Ranger delivers industry-leading 2-year warranty for the Revolution III (Previously Davey PoolSweepa Optima).