RetroChlor RC-TRI-MID - 25g/h Universal Retrofit Chlorinator
Generic Replacement for Zodiac Tri Mid / Compact
Side-step expensive installation fees with the 'plug and play' RetroChlor kit which replaces faulty or outdated salt water chlorinators in just 15 minutes.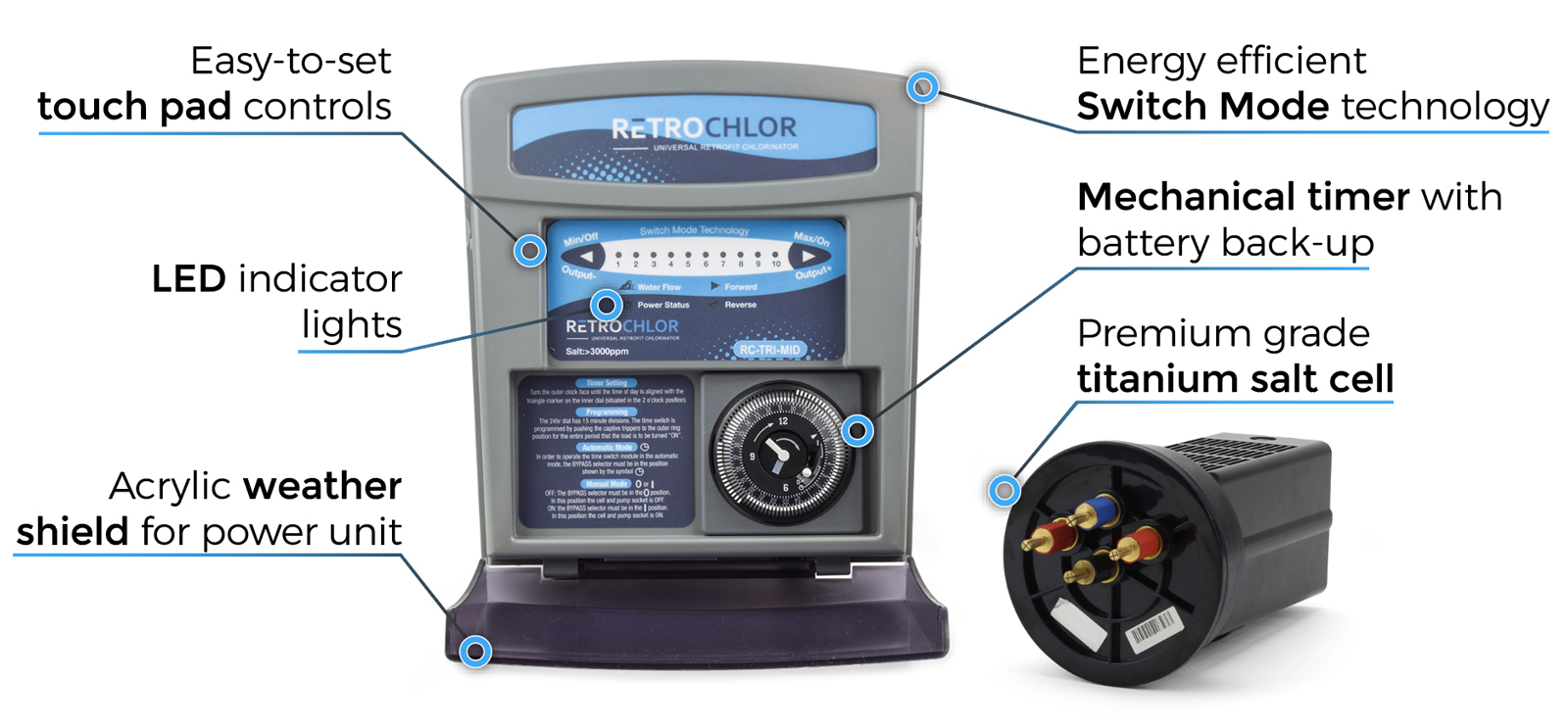 Australian elements often accelerate weathering. Vermin, corrosion and power surges can leave pool chlorinators damaged- do you buy a new cell, cables or control box? Service shops often charge high hourly call-out rates to identify these problems and inflate costs for replacement parts.
Exclusive to Best Pool Supplies, our universal 'plug and play' kits are designed to easily slot into existing pool equipment set-ups. The result means this vital pool cleaning component is renewed against wear and tear without the cost of replacing entire pipe systems.
See how easily the RetroChlor can slot into your existing set-up
Features
Self-cleaning cell
Part of the reason chlorinators become faulty is due to a build-up of calcium on the cell plates. RetroChlor eliminates this problem with reverse polarity technology which changes the direction of the current at programmed intervals, dissolving calcium off the plates.
Energy efficient Switch Mode technology.
Older style chlorinators use transformers as a part of the conversion process from AC to DC current. The copper wires in these transformers offer a greater resistance to the flow of electricity, resulting in greater energy consumption and possible overheating of the chlorinator. This RetroChlor model uses modern Switch Mode technology that can save up to 50% of the chlorinator running costs and is thus, more eco friendly.
Safety and versatility
As mentioned earlier, Australian elements can accelerate weathering on equipment that is left outdoors. Retrochlor battles the elements with high grade internal components and weather shielding constructed from acrylic. Safety of your unit is paramount and with over current and temperature control incorporated, this will ensure reliability in extreme heat and the harsh operating conditions of the Australian climate. For peace of mind, manufacturer's warranties cover the power pack and cell with a 2-Year full replacement guarantee.
A clear future
With all bases covered, you can swim through crystal clear water in safety with the chlorine production from RetroChlor. Swim in healthy salt water free of harsh chemicals and harmful bacteria.
Tech Specs
Kit includes: chlorinator control box, electrolytic cell, chlorinator output cable

25g/h Chlorinator

Energy efficient Switch Mode technology

Low salt operation: 3000-3500ppm (0.3% - 0.35%)

​High quality and reliable mechanical timer with battery back-up;

Premium grade titanium salt cell;
FAQ
What parts make up a pool chlorinator system?
Most chlorinators come in four main parts:
Cell housing

Control box

Electrolytic cell

Chlorinator output cable.
How to replace faulty chlorinators?
Remove the old control box from the wall.

Hang the new control box on the wall.

Remove your old cell from the housing and fit new cell in its place.

Plug the output cable into cell terminals.

Program the timer.

Enjoy crystal clear pool water again.



How to change chlorinator without plumbing?
Manufacturers often discontinue parts and only calibrate new systems to old technology on a one-to-one basis. This is why it is difficult to find replacement parts without installing an entirely new system and its plumbing/cell housing again. Because connectors come in all shapes and sizes, other parts simply don't fit older systems. RetroChlor comes calibrated in a variety of sizes to fit many different brands.
This unit ONLY works with an existing Zodiac Tri series cell housing. We offer a range of other RetroChlor kits compatible with other brands.
Warranty
Warranty Period - 2 Years Power Pack & Cell