Zodiac OT15 Robo​tic Pool Cleaner
Built like a tank, Zodiac's OT15 lightweight robotic pool cleaner scales floors and walls up to the waterline.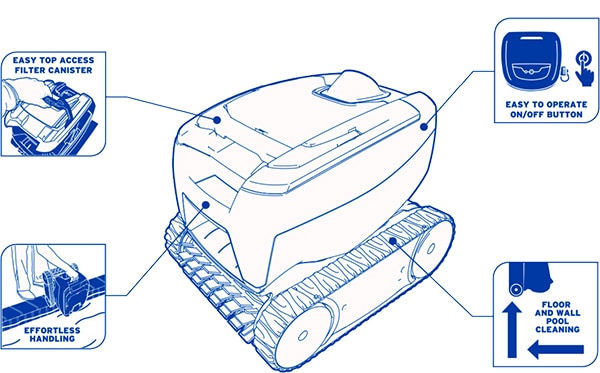 The all-in-one robotic pool cleaner machine works independently from your pool filter. It packs both a filter and electric motor for deep-scrubbing.
Unlike cheaper cleaners, software intelligence inside the Zodiac OT15 ensures it never gets trapped in corners.
Best Pool Supplies continually reviews the most competitive price for the Zodiac OT15.

Zodiac OT15 Robotic Pool Cleaner Features
- Powerful brush and vacuum
- 2.5 hours cleaning cycle
- Extra-long 14-metre cable
- 200 Micron Filter Canister (100 micron sold separately)
- Only weighs 7kg
- Energy efficient
- Easy access filter canister
- Plug & play on/off button

How it works
The Zodiac OT15 is engineered for total pool coverage and performance. This is achieved through its self-contained design, working independently from your pool filter. Rather than relying on water pressure for direction, the autonomous robot is free to clean the pool methodically.
With just one on/off switch and one 2.5 hour cleaning cycle, the Zodiac OT15 is plug & play from start to finish. Removing the 7KG device out of the water is easy with a large ergonomic handle. Then, simply pop off the opaque top cover, remove the filter and quickly rotate to rinse clean.
Fourteen metres of power cable ensures pools up to 8m x 4m can be serviced. Compatible surfaces include concrete, fibreglass, pebblecrete, quartzon and vinyl (tiled pool model sold separately). Zodiac's eco robotic cleaners are proudly top-rated energy-efficient products on the market.

Warranty
2 Years (1 year on wearable parts - filter canister, tracks and roller brush)