Zodiac Tornax TX20 Robo​tic Pool Cleaner
Efficiency, pure and simple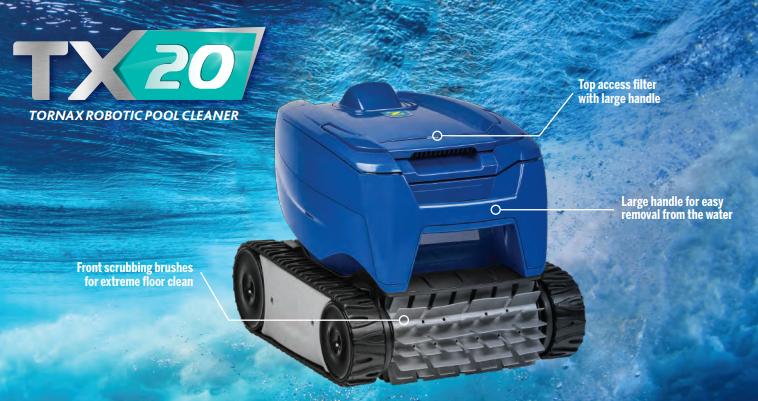 Thanks to its smart motion system, the TX 20 can move around the whole pool all by itself. With its brush function, it guarantees maximum cleaning, quickly removing debris from the surface before sucking it up. Real Zodiac® expertise for added efficiency.
Key Product Features & Benefits
eBox
The eBox control panel comes equipped with a simple one button start and pre programming for optimum cleaning.
No loss of suction power
Captures large debris such as leaves and gum nuts while ensuring constant suction power throughout the cleaning cycle.
Push 'N' Go
Easy and hygienic access to filter canister. Simply press the Push 'N' Go button to release the filter canister handle to remove the filter canister and easily empty debris.
Specifications:
Cleaning areas: Floor

Number / length of cleaning cycles: 1 cycle - 2hrs (floor)

Energy source: Self-powered, transformer plugged in to a standard wall socket

Motion: Pre-programmed

Drive system: Caterpillar track

Transmission: Gears

Brushes: Yes

Safety: Beach system, out-of-water safety, electronic motor protection

Filtration system/access: Rigid filter accessed from top of robot
100 MICRON FILTER CANISTER FOR ZODIAC TX20 FOR FINE DUST
Improves Zodiac TX20 efficiency in pools that have a lot of fine dust

Genuine Zodiac Spare Part

Manufacturer Part No: R0762900



Note: Depending on the surface of the pool, this optional canister could affect the cleaner ability to climb walls, and as such, it is recommended to be used only as necessary.
​