The Zodiac T3 is a simple yet highly effective pool cleaner. Its light weight and simple construction (only one moving part) make it a breeze to handle and operate.
The Zodiac Cyclonic leaf catcher is the perfect accessory for a cleaner that operates in leafy areas. It's cyclonic suction delivers maximum suction power with no extra strain on the pool pump. Its large and transparent leaf canister offers easy control and maintenance with less frequent debris removal.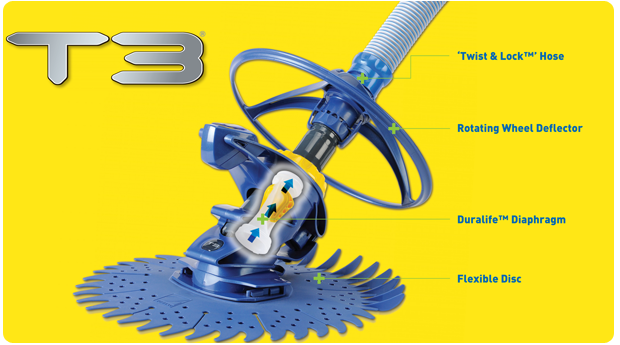 The patented Duralife™ diaphragm delivers long lasting suction power and efficient cleaning performance in most pools.
Key Product Features & Benefits DuralifeTM Diaphragm
Made with strong reinforced outer ribbing for a snap action pulse, the patented DuralifeTM diaphragm offers enhanced durability and increased suction power for a cleaner and sparkling pool. It also provides whisper quiet operation that won't disturb your neighbours.
Patented Twist & LockTM Hose
The Zodiac Twist & LockTM hose provides a stronger connection between each length of hose and also improves water flow for more efficient cleaning.
Rotating Wheel Deflector
The Zodiac T3 wheel deflector enables fluid navigation around corners, steps and ladders.
Warranty
Warranty Period - 2 Years