Pentair Rebel Pool Cleaner - World's best-selling pool cleaner lands in Australia!
NB! This cleaner does not work on tiled pools.
No longer is hard-to-clean debris a problem with the Rebel pool cleaner. This machine cleans your pool thoroughly and pays close attention to the harder-to-clean debris, such as sand and leaves. It's a two-wheeled revolution with programmable steering.
The Pentair Rebel will maneuver from shallow bottoms to deep, handle up to 90-degree floor-to-wall angles, work in tight spaces and pick up debris other cleaners leave behind. Ditch the "normal" suction pool cleaner pushed around by currents and a hose. The Pentair Rebel pool cleaner provides a more decisive cleaning device with expanded coverage.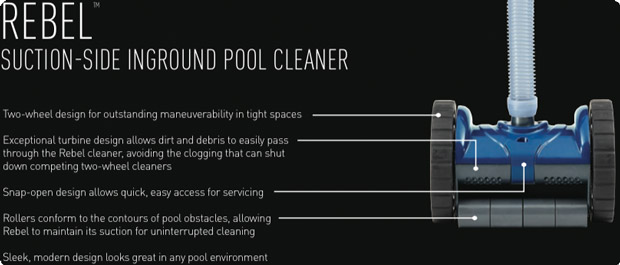 Modern Design for Better Cleaning
The two-wheel design provides sleek form as this pool cleaner is a true rebel compared to the others. It stands out amongst the available cleaners with an exceptional turbine design. This intelligent design allows debris and dirt to easily pass through, which keeps clogging to a minimum.
Along with better cleaning, the design makes it easy to service the machine with snap open access. It even looks great as it's working in the pool because of the modern design.
Providing incredible performance in a compact machine, the Pentair Rebel shows off its' abilities every time you use it. No longer do you have to struggle to keep your pool clean. This advanced machine provides the modern design and engineering to ensure full coverage without interruption.
Warranty
Warranty Period - 3 Years
Benefits of Using the Pentair Rebel Pool Cleaner
When you choose such a sleek and modern pool cleaner, it comes with many benefits including.

Full Coverage of your Pool - No more using a cleaner that doesn't complete the job.

User-Friendly - Just attach the skimmer hoses or a dedicated vacuum line and you're all set.

Works with all Pumps - This no hassle pool cleaner will work with variable or dual speed pumps.

Very durable - Made with only the highest quality materials.

Won't Clog - No more stopping your pool cleaner halfway through the job to unclog it.

Works in Pools Other Cleaners Can't - You can use this cleaner in any type of pool and it will pick up sand, leaves and other debris other cleaners leave behind.
​
Features of the Pentair Rebel:

The Rebel pool cleaner provides many advanced features including:
Advanced Hydraulic Technology - Allows for easy use with variable or two-speed pumps.

Programmed steering ensures that you gain full coverage whenever cleaning your pool.

Quick-Release Latch - The latch can easily be released making the machine simple to service.

Sure-Flow Turbine Technology - Allows dirt and debris to easily pass through the cleaner without clogging it.

Compact Footprint - Provides more accuracy with cleaning and the ability to handle 90-degree angles with ease.

Dedicated Vacuum Line Port - Give this cleaner added safety when using with a dedicated vacuum line.

Dual-Action Roller Skirt - Provides the ability to move over any obstacle for non-stop cleaning.

Easy Installation and Maintenance - No need to spend hour installing or maintaining this pool cleaner.

Superior Performance in All Pool Types - Use it with a tile, fibreglass, gunite or vinyl pool.