Supavac Underwater Vacuum / Venturi Pump w. 1.2m Telescopic Pole
The unique Supa-Vac design allows you to quickly clean or empty virtually any water fixture. ie. above ground and inground pools (steps and swimouts), spas, splasher and paddling pools, fountains, ponds and ornamental water features.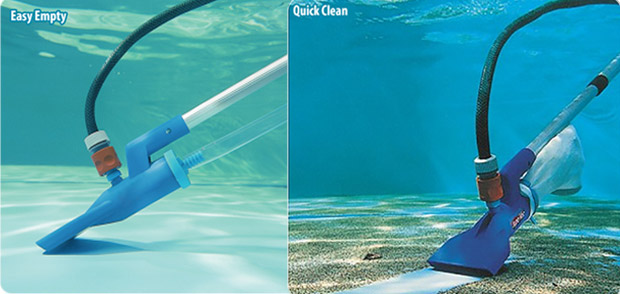 Quick Clean: Simply fit the Filter Sock to the rear of the Supa Vac with the retaining clip provided, slide the supa vac head into any telescopic handle, connect your garden hose, turn on the tap, and the venturi action will quickly vacuum the dirty waste material into the attached filter sock.
Easy Empty: Supa Vac provides a simple solution to the problem of how to empty any pool, pond or fountain which does not have a pump, filter or discharge equipment. It is alo ideal for emptying spa pools which are not fitted with sufficient drainage equipment. Simply connect the Venturi Pump Attachment (supplied) and fit any standard 3/4''(19mm) drainage house or clear tubing (not supplied) to the barbed fitting. Immerse the supa vac below the water surface and turn on the tap.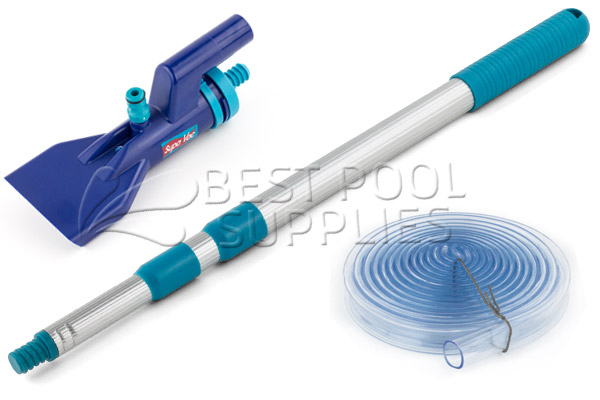 Kit Contains:
Supa Vac Underwater Vacuum (includes venturi pump attachment and garden hose connection)
1.2 m telescopic pole.
2.5m Drainage hose (for emptying)
Filter Sock (to collect debris)