NOTE: Due to weight restriction in some areas, this item may not be able to be delivered to a residential address and will need to be collected from the couriers depot.
---
FEATURES
5m(L) x 3.6m(W) x 1.2m(H), (16.4'x12'x48")

Water capacity (90%): 16,296 L, (4,305 gal)

Semi-permanent structure

Australian Standard Approved pool

Includes 800gal sand filter pumpCorrosion resistant metal frames

Reinforced 0.4 mm (16 ga.) UV-resistant PVC liner protects against sun damage

Extra wide 16 cm (6.3") steel top rails

Triangular supports on both sides of frames increase stability and safety

Unique ridge design along the outside of pool wall provides added support

Integrated surface skimmer works together with the water filter to help remove unwanted floating debris and keep pool water crystal cleanPool should be assembled on a solid, zero degree level surface

Underwater adhesive repair patch

Patent pending
---
FREE SOLAR POOL COVER
Solar pool covers keep your pool water warm, stop evaporation, dissipation of the chemicals and keep rubbish out of the water.

This pool cover is made of translucent bubble wrap like material that lets sun rays through to warm the water but stops the heat from escaping. It covers the pool surface keeping debris out of the water and limits evaporation.

With your solar pool cover, you will be able to enjoy your Bestway pool with warmer water, extending your swimming season, while saving money on water and chemicals.
---
BESTWAY PRESENTS: GIVE YOUR FAMILY THE BEST SUMMER EVER!
---
WHAT'S IN THE BOX?
THE POOL
THE SAND FILTER PUMP
Sand filters are the ultimate in above ground pool filtration as they require less maintenance than a cartridge based filter system.
Durable, corrosion-proof filter tank

6-position valve for easy control

Top flange clamp design allows 360 degree rotation for easy installation

Backwash, rinse and filtration functions

Easy-to-read pressure gauge

Strainer for separating leaves and other rough debris
​THE POOL LADDER
This Bestway pool ladder features heavy-duty plastic steps and rust-resistant coated metal frame. Being lightweight means keeping your pool child safe has never been easier.
Easy construction is another bonus, a screwdriver is all you need to put it together.
THE INTEGRATED SKIMMER BOX
No more debris, dead bugs or dirt in your pool with this convenient integrated skimmer box! Neatly hidden away on the side of the pool, the skimmer box goes a long way helping to maintain crystal clear water for your enjoyment.
THE GROUND CLOTH
It provides extra protection for the bottom of the pool. Made from all-new durable material.
Pool Dimensions/Capacity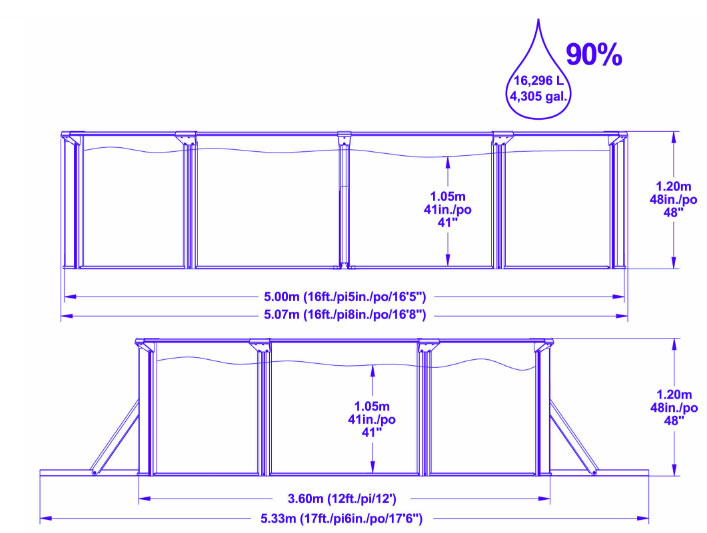 ---
Flowclear Sand Filter Pump
Flowrate: 800 gal/hr

Sand not inlcuded

Required sand size: #20 silica sand, 0.45-0.85mm, approximately 8.5kg

All accessories included
---
Package Dimensions
Master carton size: 80.00 x 62.00 x 162.50 cm
Master carton weight: 168 kg